How to Hire a Content Writer
A great content writer helps grow your business, but they are difficult to come by.
A content writer helps with:
blogs,
newsletters
sales copy
guest posts
social media posts
The best writers are well-versed in keyword research, content publishing, editing, and distribution. Hiring a proficient writer improves online visibility and organic traffic to your site or social media.
Investing your time in content creation can steal your attention from other business aspects. Therefore, you may need to hire a content writer to grow your brand.
This article will look at everything you need to know when bringing a content creator on board. Let's get started.
Why You Should Hire a Content Writer
Professional content writers help increase organic traffic through search engine optimization strategies.
The writers can tell a story alongside technical SEO skills improving a business's results on the SERPs.
They use the best SEO practices, improving the SEO strength.
The writers produce high-quality content and incorporate well-researched keywords.
You can focus on the other aspects of your business like attending to your customers. 
Factors to Consider when Hiring a Content Writer
Once you decide to work with an SEO writer to actualize your marketing goals, you need to consider a few factors. Below are some of the things you need to look out for when hiring a content writer.
The best content writers have search engine optimization knowledge. They can do keyword research and planning play around with phrases to improve your appearance on the search results page. If you want to hire a content writer, they should have a decent working knowledge of SEO and related trends. Moreover, the writer should know how to create SEO-friendly content.
Tone and writing style will vary from one content writer to the other. However, a good content creator should adapt easily. You want to employ a writer who has experience in several niches. It shows their ability to adapt to suit the tone and style of your business.
Research is crucial to producing good content. Look for a good content writer who can research a topic and include data. This information adds credibility to a story and strengthens the content. Using legitimate sources provides the readers with honest and well-informed content.
4. Content Strategy & Writing
Apart from knowing how to write, a freelance writer for hire also knows how to form a great content strategy. They can create exacting stories from boring content. Furthermore, they understand the trending conversations, ensuring content meets this demand.
Another checklist for a content writer is real-time editing. A professional content creators are keen on details. As a result, they can identify grammatical errors, redundancies, and punctuation errors.
If you are looking for a blog writer for hire, you need to look at their communication ability. The writer should generate blogs, press releases, and newsletters, all portraying the company's values.
Additionally, they should write quality content, that relays the right messages to your customers.
One of the most important qualities of a writer is time management. Since they work on many projects simultaneously, some freelancers can bite more than they can chew. Look for a writer who has good time management skills and can meet deadlines without compromising quality.
Step-by-step Guide to Hire a Writer
Below is a step-by-step guide for hiring a content writer.
1. Understand Your Content Needs
Do you want to hire someone to write a paper or blog content? While some writers are versatile and can handle any topic, it doesn't mean they can produce high-quality content in each case.
Writers' skills may differ when writing long or short-form articles, social media content, ad copies, landing pages to help with lead generation, eBooks and whitepapers.
Ideally, your chosen content writer should match your business needs. You can look at the type of content they can write.
Looking at their portfolio should tell you the kind of content they produce. Look for patterns in their content when making a decision. Additionally, ask the writers about their strengths.
2. Do You Need an In-house or Freelance Writer?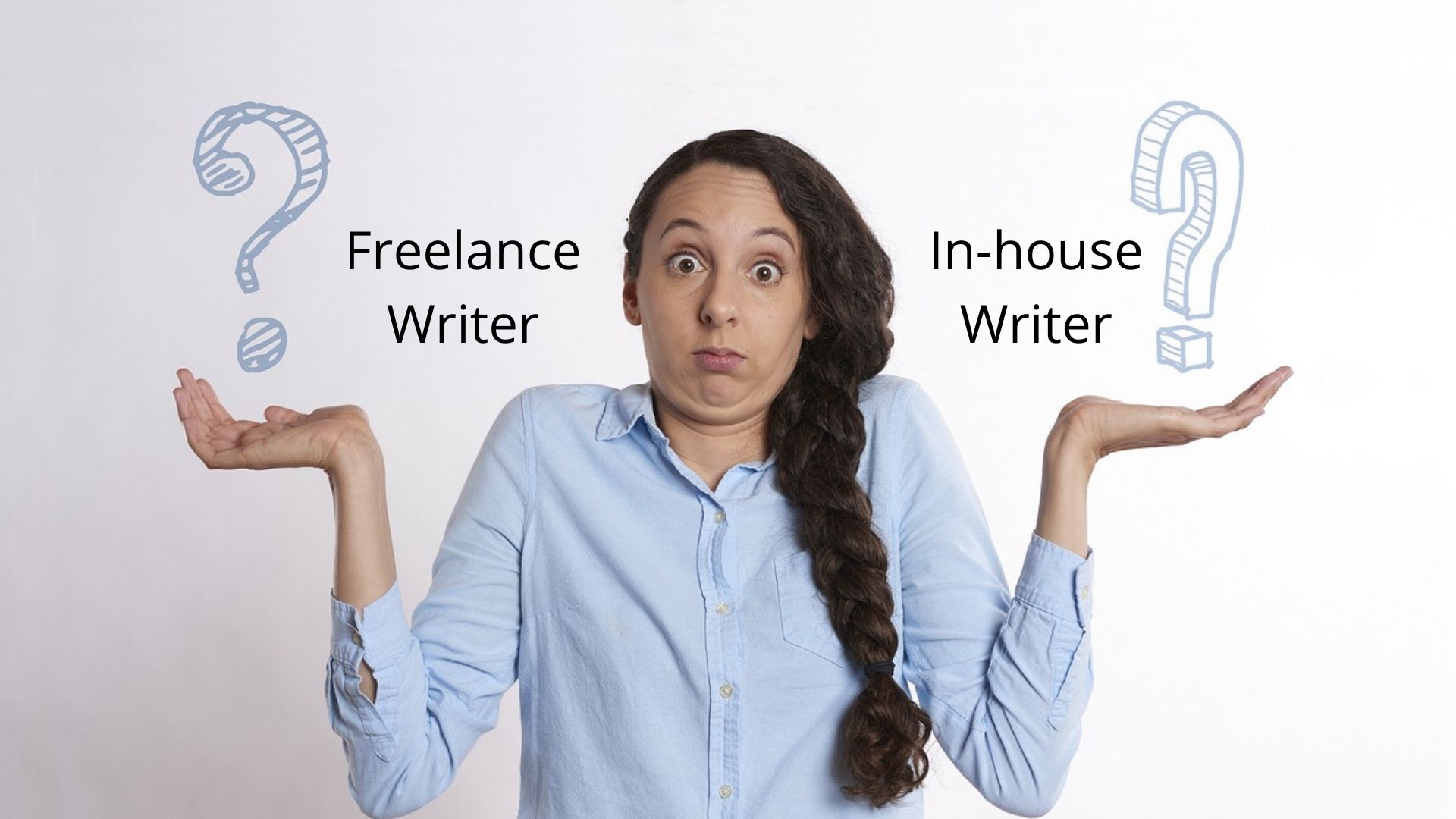 The second step when hiring a professional writer is the nature of the working relationship. You can have a full-time in-house writer or a freelancer. Each type of these methods has its advantages and disadvantages.
An in-house writer is more dependable as they don't skip deadlines. They also fully focus on the work and generate content as needed.
Additionally, in-house writers fully own their work leading to more success. However, it can be challenging to find an in-house writer. Hiring one also requires time to vet and find a candidate who is culturally fit.
If you have a small company, hiring an in-house writer may be more costly. You can look for a freelance content writer for hire in such a case. These writers generate quality work at a much lower cost. Additionally, you don't need to incur employee benefits costs. They are also easy to find and onboard.
That said, some writers can be expensive. They can also be located in different time zones, affecting your working schedule. Once you have decided on your budget and chosen the working relationship, you can move on to the next step.
Before you hire a content writer, you need to know how much you are willing to spend. Moreover, you need to understand what value you get based on the price range.
The goal is to get content that grows your business. For this reason, you need to ensure you get content writers that are the right fit for your business. It ensures you derive a high return on the investment.
Once you have advertised the position and found a fitting candidate, you can set up an interview.
During the interview, you need to ask the right questions. The answers to these questions should let you know if the candidate is ideal. Some of these questions include:
What type of content do you specialize in?
Asking this question helps you understand the candidate's experience level. Though you may ask them to do different types of content, it's good to know where the writer excels.
Writers who say they'll write whatever you need may generate mediocre content.
Can you optimize content for SEO?
Asking this question informs you if the writer understands SEO. If you hire someone to write a blog, they should be able to define a keyword based on the research.
They should also know how to add the keyword in the title, alt-tag, and URL. Furthermore, they should know how to link to anchor text.
Do you require assistance with research?
Research is a must if you want to generate good content. Good writers aren't exempt from this rule.
If you are hiring a writer with prior experience in your field, they may not require a lot of help to do research. However, if you hire someone to write white papers, eBooks, or case studies, they may need assistance with the research.
How many revisions do you do?
Writers, when they first start a project, make mistakes. They can use the wrong tone or link to a competitor. For this reason, you will require edits. You need a writer who knows this and is willing to make the necessary changes.
5. Discuss Terms & Conditions
A good writer has the required skills opinions and also shares your ideas. Once you have found a good writer suitable for your needs, you need to understand their terms. You need to know if they can meet your deadlines. Moreover, do they have time on their schedule?
Often, especially in the case of hiring a freelance writer, employers assume they work for them. Of course, they do. However, they could also be working with other businesses.
If your preferred freelancer has more than one client, you need to have an open conversation about their time. Explain to them your expected turnaround time. Understanding their time commitment and speed helps avoid a stressful relationship in the future.
Platforms You Can Use to Get a Content Writer
There are many sites where you can hire a writer. These places include:
Upwork: The site has over 12 million freelancers. At a fee, you can access a huge amount of talent.
Hubstaff Talent: If you don't want to pay a fee, you can use this site to access thousands of freelance writers.
Scripted: It focuses on content marketing. However, you need to pay a monthly fee to get a top freelancer.
Freelancer: It has over 23 million users and gives you access to a large pool of writers.
ProBlogger: This site allows you to pay once you post your job. It is a great site to look for a writer as they contact you once you post.
Writer Access: Writer access only has writers from the US. Employers use this site to hire native English speakers only.
Blogging Pro: This site, much like ProBlogger, gathers professional bloggers. Once you post an advertisement, the writers look for you.
Fiverr: Fiverr offers you an opportunity to find a cheap content writer. The content writers post their terms and you can engage them to set up an interview.
PeoplePerHour: You can search for article writers on the site. You can also access pre-packaged deals on the site.
Craigslist: Professionals often check for employment opportunities on the jobs section on Craigslist.
Pros & Cons of Hiring a Content Writer
Content writing is a crucial element of building your brand. It increases online following and brings organic traffic to your site.
You can choose to hire a writer or produce the content yourself. Below are some of the advantages and disadvantages of hiring a content creator.
| | |
| --- | --- |
| Pros of Hiring a Content Writer | Cons of Hiring a Content Writer |
| More Time for Other Tasks | It Costs Money |
| Content Writers Gives Your Site a Professional Look | Lengthy Hiring Process |
| Generate Fresh Ideas | Plagiarism Concerns |
| Professional SEO Writing | Need for Deadlines |
| Writers Understand How to Write for Your Audience |   |
Pros of Hiring a Content writer
The advantages of getting a content creator include:
1. More Time for Other Business Aspects
Writing great content for your site can take considerable time. A lot of research is needed, and the writing process also consumes a lot of time.
When you hire a content writer, you have more time to focus on other tasks, improving chances for your business success.
2. Content Writers Give Your Site a Professional Appearance
Writers know how to write conversational articles that flow naturally. Additionally, they edit their work, ensuring no grammatical errors or wrong tone. They also know what readers want.
Moreover, they know how to make your site appear professional. Content writers can balance visuals with written content, making it easy for readers to go through the site.
Bringing in a writer to your team can help you come up with new ideas. They bring an outsider's outlook to your business, thereby generating more content ideas for your website.
4. Professional SEO Writing
Another reason you should hire a blog content writer is search engine optimization content. Writing for business requires content that will generate traffic to your site. It allows the content to be seen and read, which improves your business revenue.
5. Writers Know How to Write for Specific Audience
It is not possible for you to know each aspect of your customers. However, writers spend their time writing and researching. They know how to take complex subjects and simplify them to communicate with your audience.
Cons of Hiring a Content Writer
Though there are great benefits of hiring professional writers, there are also some disadvantages.
If you hire a content writer, you will need to spend money. You need to look at your budget and ensure you can afford it. However, hiring a content writer is worth it in the long run.
2. Lengthy Hiring Process
Not all writers are the same. As a result, it may take time to find the right fit. Hiring a writer may also not work in the long run. As a result, you have unfinished work or content needing rewriting.
When you hire a blog post writer, you want to ensure you don't have plagiarized content. For this reason, you may have to keep looking at some writer's content.
Apart from not being genuinely sure about the content you receive, you also have to work with deadlines. It can be draining ensuring your writer meets deadlines.
It takes a lot of time to get a fitting content writer. Before posting the job requirements on any site, you need to define your content needs. You can use this checklist when going through portfolios from various candidates.
Ensure you ask the right questions during the interview to reduce the hassle of going through the same task again.