There's no question that content marketing is one of the most important aspects of online marketing.
Research by Content Marketing Institute shows that close to 80% of B2B marketers have a content strategy. The stat is enough evidence it is an integral part of any campaign.
Like the foundation of a house, the content marketing process will determine the success of your strategy.
Content development helps you to
build a relationship with your customers
establish your brand as an authority in your industry
generate leads and sales
It is not enough to write a few guest posts and blog content; you need a plan to ensure that your efforts drive the success of your business.
What is a Content Marketing Process?
A content marketing process is a framework that helps you plan and create relevant, valuable content for your target audience.
It outlines the steps to help you:
identify what type of content to produce based on market research and customer needs
develop actionable plans to achieve your business objectives within a given timeline and budget.
create and publish content that attracts, engages, and converts customers.
Content marketing is a long-term investment. The process helps you create high-quality content consistently over time so that your business will continue growing.
The Proven Content Marketing Process
A content marketing process helps you organize your content strategy and make it efficient.
There is no single correct way to do content marketing. However, standard processes will take you through the key stages involved in any campaign – from planning to distribution.
Step 1: Content Research & Planning
Abraham Lincoln once said, "Give me six hours to chop down a tree, and I will spend the first four sharpening the axe."
The same is true for content marketing. You can't simply start creating content without first doing your research.
You need to:
understand your target audience
know the keywords they are searching
identify the content that interests them
create a content calendar
Once you have that information, you can start planning your content strategy. This will involve creating an editorial calendar, determining the type of content you will create, and outlining the key points you want to cover.
The research stage helps you create relevant and interesting content for your target audience.
Creating quality content is essential for any successful content marketing campaign. Data from WordPress shows that over 80 million blog posts are published every month.
In such a competitive world, do you even stand a chance? Fortunately, you do. Most content markets don't take the time to create quality content that resonates with their audience.
The best way to do it is by creating a buyer persona and using it as your guide throughout the process of creation.
You can create different types of content:
blog posts: informational content that is relevant to your audience
whitepapers: in-depth reports on a particular topic
case studies: real-life examples of how your product or service has been successful
infographics: visual representations of data or ideas
videos: short and informative videos that can go viral
books: longer, more in-depth content that can be used as a lead magnet
webinars: online seminars meant to engage your audience
Ensure there is a good balance between different types of content, depending on your audience's needs.
Step 3: Content Scheduling & Publishing
Creating content is one thing, but publishing it and ensuring that the right people see your message is a whole new ballgame.
You can use a calendar to determine what to post when and on which platform to avoid conflict between different types of content.
Ask these questions to ensure effective scheduling:
Frequency: How often should I publish new content?
Format: What type of content will I be publishing (blog post, infographic, etc.)?
Subject Matter: What topics will my content cover?
Platforms: On which platforms will I publish the content?
Timing: When do I want to reach the buyers in their journey?
There are different tools you can use to schedule content.
Hubspot Marketing Content Calendar: view, edit, and manage your content in one easy place – including videos, memes, and podcasts.
Hootsuite Streams: an effective tool for managing content on different platforms.
Crowdfire: helps you publish your content at the right time for your audience.
Buffer: a social media management tool that lets you schedule posts ahead of time.
Step 4: Content Sharing: Promotion & Distribution
Once your content is published, it's time to share it with the world. There are many ways you can do that, depending on your target audience and the platforms they use.
Here are a few strategies you can use:
social media – Facebook, Twitter, LinkedIn, etc.
email marketing
influencer marketing – reach out to people with a large following and ask them to share your content
syndication – distribute your content through third-party sites like Medium or LinkedIn Pulse.
Step 5: Performance Tracking: Analysis
Executing a plan without tracking performance is like groping in the dark, hoping that you will find what you want. Most times, it doesn't work.
You need to track and measure the performance of your content marketing efforts. This will help you determine what's working and what isn't – so that you can adjust accordingly.
According to the Content Marketing Institute report, over 90% of B2B marketers use website traffic to measure performance. Although a good metric, there are other essential metrics that can show the success of your content marketing process.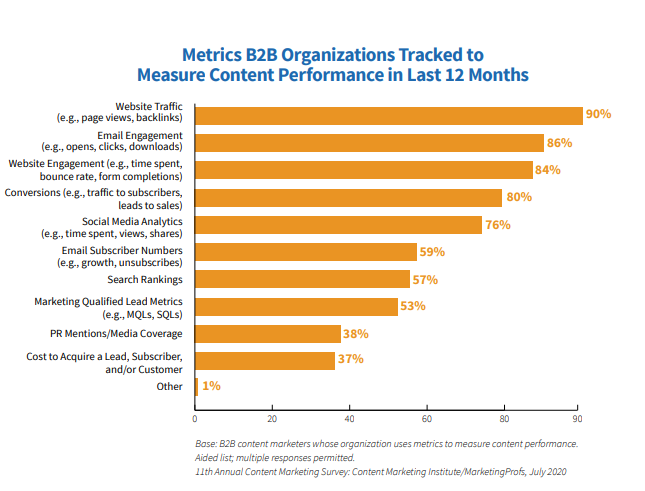 Conversions (leads generated or sales made) are best because they show the actual impact of content marketing on business results.
Quality content is the key to a successful content marketing campaign. It's also essential to have a well-defined process to help you create, publish and share your content effectively. Finally, track and measure the performance of your efforts to ensure that you're getting the most out of your investment.
Content Marketing Process FAQs